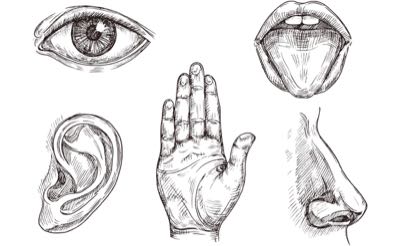 We know what our senses are: sight, hearing, taste, touch, and smell. Those senses dictate our actions, to a large degree, minute by minute, hour by hour, day by day. But can we trust them? Of course, a bad odor may indicate a problem somewhere, a hot curling iron burns if we touch it, and not everything we eat has a pleasant taste. So yes, we can trust our senses to give us information about our surroundings.
However . . .
I remember a song we used to sing in Sunday School with the words, "be careful little eyes what you see, be careful little ears what you hear" (see full lyrics below). Why did the song zero in on those two things first? Because, I believe, sight and sound are the two senses where the enemy has initial access to our thoughts and subsequent actions.
This past year, I've been more aware of the consequences of allowing brain space to be taken up by things I should not be looking at or listening to. This is particularly true when it comes to the Covid-19 situation, political unrest, conspiracy theories, etc., and watching the world lose all sense of – well – common sense. I'll even go so far as to say that there are even some pastors and churches out there who are contributing to the problem by ignoring God's agenda and promoting their own during this time of vulnerability.
None of this is new. It has occurred throughout all history. But today, with our ready access to the news (if you can call it that) and wide-spread social media, our eyes and ears are being bombarded with so much trash and untruth, it's become difficult to distinguish between what is real and what isn't.
This is where we, the redeemed of the Lord, the Jesus followers, the believers of the whole Bible, have a responsibility.
We are responsible to ourselves, and to our friends and families, to uphold the Word of God and test everything we are seeing and hearing with that Word. We are responsible to speak the truth as God gives us utterance. We are responsible to cast down arguments and every high thing that exalts itself against the knowledge of God, bringing every thought into captivity to the obedience of Christ (2 Corinthians 10:5). We are responsible to take authority over that which would attempt to pull us away from whatever things are true, whatever things are noble, whatever things are just, whatever things are pure, whatever things are lovely, whatever things are of good report, if there is any virtue and if there is anything praiseworthy—meditate on these things (Philippians 4:8).
I urge you to resist giving place to pessimism, to negativity, to self-condemnation, to fear, to anxiety, to bad habits, to wrong beliefs and attitudes, to lies, and to complacency. These things do not come from a place of victory in Jesus Christ, and if they take root in your mind, they will steal your peace, your joy, and your hope. Eventually, they will destroy you.
Strong words, I know. That's why it's vital to stop leaning on your senses.
Lean on the One who is above all. See His words. Hear His voice.
O be careful little eyes what you see
O be careful little eyes what you see
For the Father up above
Is looking down in love
So, be careful little eyes what you see
O be careful little ears what you hear
O be careful little ears what you hear
For the Father up above
Is looking down in love
So, be careful little ears what you hear
O be careful little tongue what you say
O be careful little tongue what you say
For the Father up above
Is looking down in love
So, be careful little tongue what you say
O be careful little hands what you do
O be careful little hands what you do
For the Father up above
Is looking down in love
So, be careful little hands what you do
O be careful little feet where you go
O be careful little feet where you go
For the Father up above
Is looking down in love
So, be careful little feet where you go
O be careful little heart whom you trust
O be careful little heart whom you trust
For the Father up above
Is looking down in love
So, be careful little heart whom you trust
O be careful little mind what you think
O be careful little mind what you think
For the Father up above
Is looking down in love
So, be careful little mind what you think
So, be careful little mind what you think
Traditional hymn, composer unknown